The school believes that values education and character development are very important to the holistic development of the student.
We define values as:
The principles and fundamental convictions that act as a guide to behavior.
Enduring beliefs about what is worthwhile.
Ideals for which one strives.
The standards, beliefs, and actions that are judged to be good and desirable.
KAS has adopted the Living Values Education Program as the main methodology for character education. The program consists of 12 universal values. They are: Peace, Respect, Responsibility, Love, Humility, Happiness, Simplicity, Honesty, Cooperation, Unity, Freedom and Tolerance. These values and other positive values are modeled throughout the school.
Step 1 :
Understanding the Values-based Approach
The values-based approach is created through the welcoming atmosphere that honors your presence and invites you to your learning with love, values, respect, understanding and safety. Members of the school are committed to creating this warm welcoming atmosphere, a positive 'can do' approach, dedication to excellence, and simply living and modeling in 'a kind way' as we address one another with honesty, cooperation and self-respect.
Around school, it is shown in a warm welcoming smile, a kind tone of voice and full attention to the requests from our students, parents and guests.
In the classroom, it is shown by honoring the students and ourselves for who we are, trusting in our goodness, modeling positive regard and giving opportunity to empowering the learning potential that is within us all.
In each and every one of us, it is shown in our positivity towards life, how we honor the dignity and integrity of others, and especially in 'the way' we greet and speak with others.
Step 2 :
Educating for the Values-based Approach
Our parents are, and always will be, the students first and foremost educators. At KAS, we believe that values cannot be taught but can be caught through our example that begins at home.
To assist in this process, the school focuses on one value per month - for example peace, happiness and love - and models how this can be achieved through formal lessons, etiquette, public speaking, art, music, drama, regular assemblies and reaching out to others both locally and afar.
We have regular assemblies where the students, staff and Principal show through acting, singing or presenting how we can practically live that value. In Middle and High school; assemblies emphasizing on values, and positive messages are fully planned, initiated and presented by students of a different class each time.
Teaching and Learning approaches within each theme focus on reflection, practicing words and actions, sense of right and wrong, social interactions, the local environment, world nature and how each theme applies to yourself.
At heart, we are all educators - parents, teachers and society at large - giving quality time and loving attention to our children as they grow and find their way.
Step 3 :
Living in your values
Educating for the values-based approach will only come to life when we live in our values. This is the greatest challenge for us all as we each have to truly model and live the values that we wish for our children.
As KAS, we believe that this is the key for we - as parents, educators and adults - can only be the change and model the change we would like to see in others.
The KAS Living Values Education approach simply invites us all to shine with the gifts we all possess and the values that we share.
Some examples of Reaching Out, Giving and Sharing our Values
KAS has a very high reputation for its values-based approach to learning and we are always seeking new ways and new approaches to bring the very best to our students and ourselves.
On our 17 years journey, so far, we have discovered that the more we give away, the more comes back to us.
Examples of how we share and learn from others include:
(a). Listening to children and parents, and working with you, for the pursuance of the highest quality values-based approaches and excellence in academic learning opportunities for your child with a full and warm-hearted professionalism.
(b). Supporting and learning with local and global communities and children who can be 'isolated' through illness and environmental or lifestyle opportunities. Some examples of what we do to support are, giving a loving presence to hospitalized children, building a well in Sudan, rebuilding schools in Nepal and empowering learning in the Cameroon..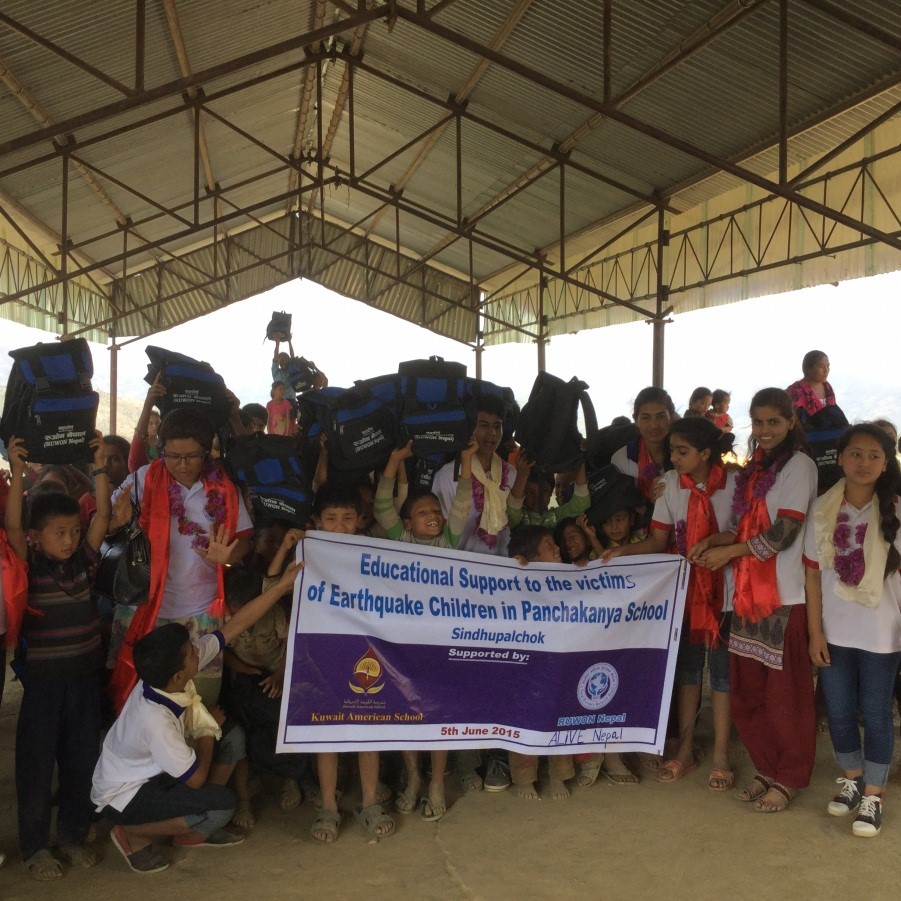 (c).Supporting and taking part in global initiatives and celebrations. For example, World Values Day.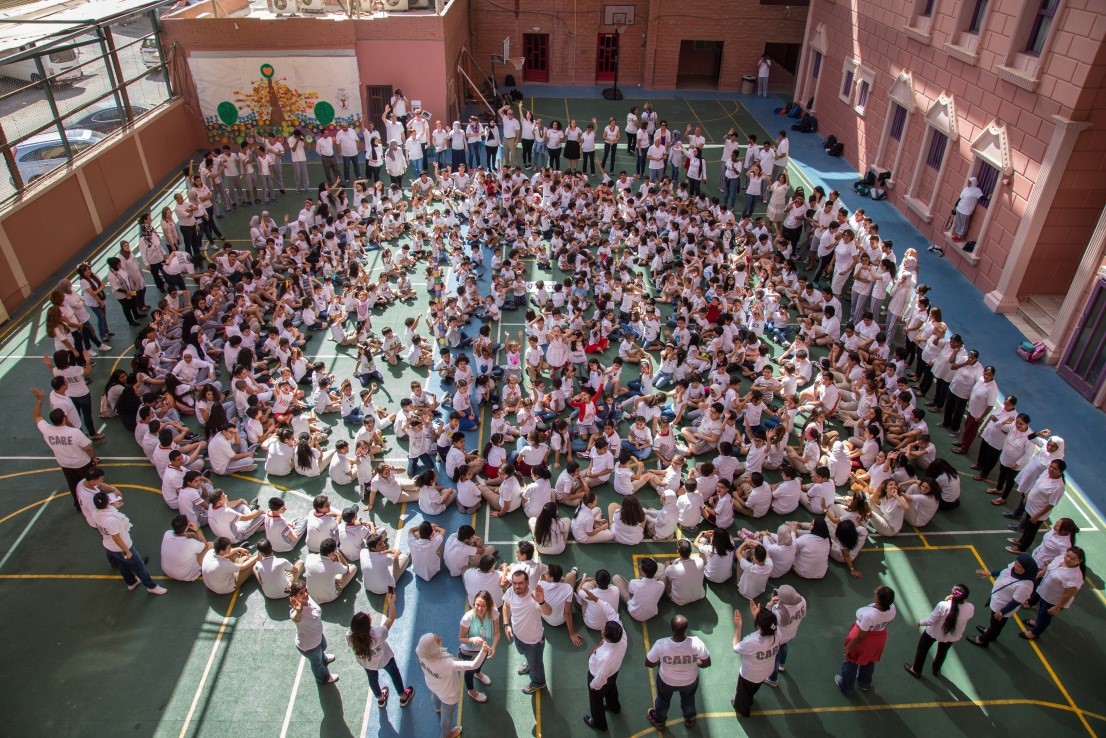 (d).Supporting and learning with like-minded educators and parents around the globe, who wish to share values-based approaches to learning and giving in ways that nurture the child 'from the root' with love, values, respect, understanding and safety. For example, sharing best practices with International Educators, Leaders in Education and with kind hearted educators of all ages.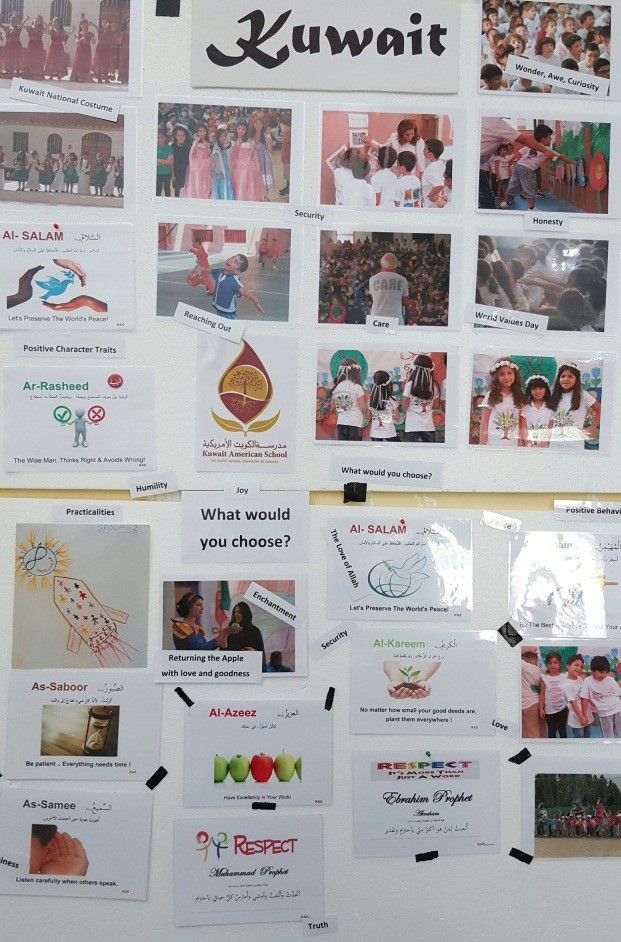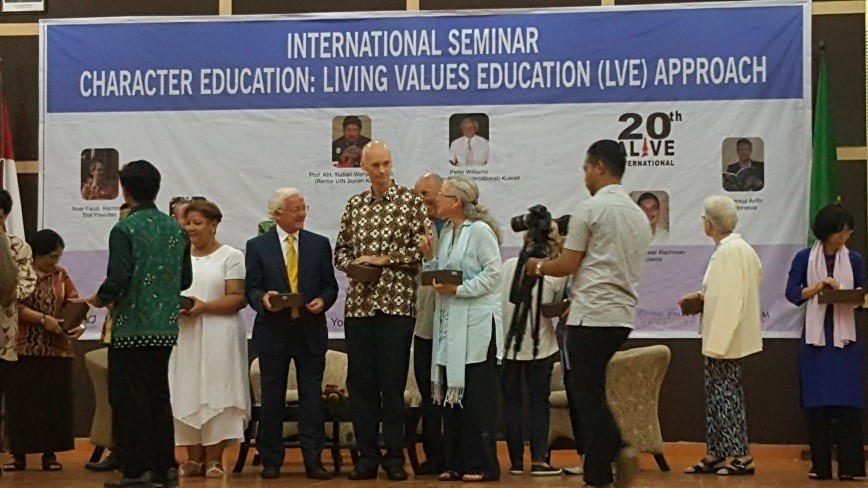 The Living Values Education Aide Memoire
In each classroom and around the school is the Living Values Education Aide Memoire. This Aide Memoire represents the training that all of the staff at KAS take part in as part of their continuous professional development. The 5 colors represent the 5 areas – when read left to right – help to bring Living in Your Values to life.
The five areas are:
Creating a Welcoming Atmosphere
The Heart of Living Our Values
Practicalities
Reaching Out
Nurturing the Soul
During the course of your child's life at KAS, all of these areas are addressed and modeled to the very best of our ability.
Etiquette
Program
The school offers an unique Etiquette program that educates how to conduct yourself in public, how to conduct yourself at the meal table and how to engage in polite conversation as well as educating manners, hygiene, appearance and values for everyday life.
As part of the program, the students receive a freshly cooked meal that is served to them at a fully prepared table with cutlery settings, napkin and glasses.
Specific examples of what is taught as part of the Etiquette program include:
How and what to wear in school.
What to wear in out of school formal settings.
How and when to say please and thank you, and to use common courtesies.
How to walk, turn and stoop in formal and informal settings
Protocols and knowing which one to use and where.
How to prepare yourself for the meal table with do's, don'ts and duties.
How to use a napkin, knife, fork and spoon.
How to eat with manners and correct posture.
Basic place settings and Formal place settings.
When to begin eating, rest and what to do when finished.
How to answer a telephone with correct voice and tone.
How to speak at the table. Opening and closing conversations.
Healthy diet.
How to balance food and exercise.
How to manage the ups and downs in life.
How to be a host and hostess.
Writing invitations and thank you notes.
Gifts and flowers.
Making the most of a special occasion.
How to manage tricky moments.
A values-based approach, together with our unique Etiquette program, invites in many benefits. These include:
Enhanced well being and success in learning.
A holistic approach to learning and living.
Values conscious living choices.
Closer links between the home and school.
A healthier and more balanced lifestyle.
Public
Speaking
Public Speaking is an art of communication that prepares students to be respectful, confident, effective, and engaging young people when relating with others in many situations.
The Kuwait American School holds this skill in high regard and enhances Public Speaking through a series of innovative ways that enriches the holistic nature of all students.
We currently employ a number of techniques including:
Narration of stories in assembly.
Writing and acting in plays.
Recitation of Poetry.
Using microphones.
Addressing an audience.
Addressing a camera.
Theatre Performance.
Poise and Presence.
Diction, Pitch and Projection.